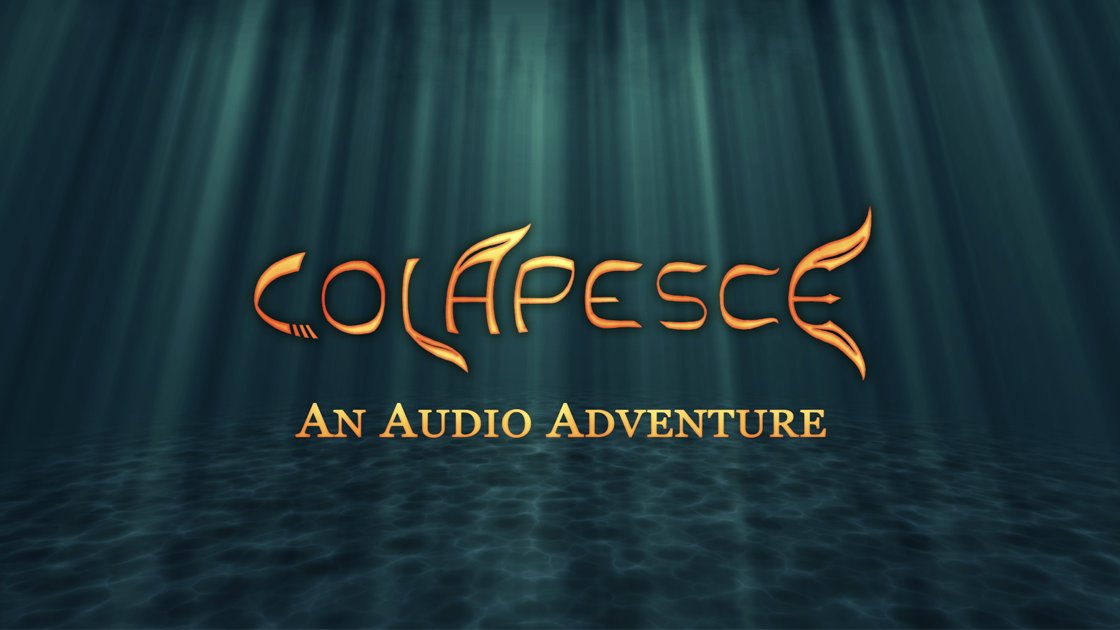 Day and Time
Sat, 10 October 2020
03:00PM - 06:00PM (EDT)
Description
Join us on Saturday October 10th for the premiere of Colapesce: An Audio Adventure on Viewcy!
TOO MUCH WATER WILL TURN YOU INTO A FISH...
Our tale takes place long, long ago in a time of disasters: earthquakes, tidal waves, storms, and volcanic eruptions - hmm, maybe not so different from today! In the harbor city of Messina lives a young boy named Nicola, the son of a fisherman who swims so much and so deep that he earns himself the nickname "Cola the Fish". Cola spends all his days in the sea, despite his mother's constant warnings that "too much water will turn you into a fish!" One day, the Princess goes out in search of this mysterious fish-boy, hopeful that he may be able to help her discover what dark secrets lie beneath the Strait of Messina, causing the quakes and tsunamis that have devastated the city.
As Cola dives deeper and deeper to the bottom of the Strait of Messina, he encounters sirens, sea monsters, and a legendary kingdom ruled by a mysterious and powerful king. As the secrets of the sea are revealed to him, Cola learns his beloved island of Sicily faces a more terrible danger than he could have ever imagined.
ABOUT THE PRODUCTION
Trinacria Theatre Company uses the arts to build bridges in a world that would build walls. Our company believes that we can connect communities and places across the world with the power of creative storytelling.
In the summer of 2016, Trinacria Theatre Company members spent one month in residency in Messina, Sicily, living within the local community and learning the little-known local folk legend of the fish-boy who saved Messina. The result was our imaginative and exciting debut production, La Storia di Colapesce.
Audiences in Italy and the US called La Storia di Colapesce "enchanting," "fantastical," and "an amazing, inspiring, one of a kind performance." New England Theatre Geek said the "message of giving life to myth in ordinary people packed a powerful emotional punch." Even years later, the story has remained close to the hearts of those who heard it.
In this time of distance, when we've had to put our plans of touring the production on hold, we've instead found ourselves reimagining what this moment could be: a chance to bring this little-known and powerful tale right into the homes and hearts of audiences all over the world.
Featuring new and returning Trinacria artists, this full-cast album brings the tale to life with original music and the same playful spirit of the original stage production.
ABOUT THE PREMIERE
Purchase your ticket to the virtual premiere on Viewcy and join the listening party! As a premiere attendee, you will also gain access to an exclusive interview with the creative team, hosted by Iyvon Edebiri of the Parsnip Ship Podcast Play Company. The whole family can listen together for just $10.
Worried you won't be able to listen to the entire broadcast in one sitting, or prefer to download and listen later? Don't worry! You will still have continued access to the Viewcy page after the event for repeat listening and downloading. That means you can have Cola with you for long car rides or rainy days.
After the premiere on October 10th, the full audio file will also be available as a download for $12 directly through Trinacria Theatre Company's website.
Trinacria Theatre Company is a 501(c)(3) nonprofit. Like many performing arts organizations, COVID-19 has been a difficult time for our team. All proceeds from the sales of Colapesce: An Audio Adventure will support the creative artists and future touring of the stage production.
ABOUT THE TEAM
Colapesce: An Audio Adventure was adapted from the Trinacria Theatre Company's 2016 stage production of La Storia di Colapesce.
Adapted and directed by Quinton Kappel. Additional writing by Sean Devare, Mariagrazia La Fauci, and Max Sklar. Dramaturgy by Max Sklar.
Featuring the vocal talents of Sean Devare, Clara Francesca, Mariagrazia La Fauci, Quinton Kappel, Dario Ladani Sanchez, Tristan Schaffer-Goldman, and Max Sklar.
Audiobook producer Becky Parker Geist of Pro Audio Voices. Executive producer Mariagrazia La Fauci.
Music direction and composition by Sean Devare, additional compositions by Dario Ladani Sanchez. Music performed by Sean Devare, Clara Francesca, Dario Ladani Sanchez, Max Sklar, and Valerie Thompson.
La Storia di Colapesce was conceived and created collaboratively by 2016 Trinacria Theatre Company founding members Josephine Cooper, Sean Devare, Quinton Kappel, Elena Kritter, Mariagrazia La Fauci, Kathleen Lewis, Dario Ladani Sanchez, and Max Sklar.
For team bios & more details please visit: http://www.trinacriatheatre.com/news/colapesce-an-audio-adventure
Day and Time
Sat, 10 October 2020
03:00PM - 06:00PM (EDT)
Organizer

Trinacria Theatre Company